Perfect7 LAMP & LEMP AMI with Webmin, PHP7 on CentOS 7 (HVM)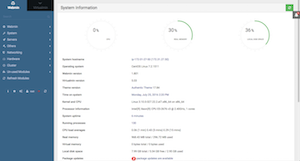 Archisoft's new AMI (Amazon Machine Image) offers a turnkey (one-click) web server solution pre-configured and ready to deploy for DIY, small and medium size businesses. It is simple to deploy, yet configurable and also scalable via load balancers.
Perfect7 AMI comes in two main variants.
1) Perfect7 LAMP (CentOS, Apache, MariaDB, Multi-PHP w/ Webmin)
2) Perfect7 LEMP (CentOS, NGINX, MariaDB, PHP7 w/ Webmin)
These are robust and highly available web servers, custom compiled with the latest open source technologies on a proven and stable enterprise class operating system (CentOS 7) with long term support, which is best suited for production environments. These AMI's are true one click solutions. Once activated, follow the step by step instructions to setup your domain name, ftp, email user accounts with SPF & DKIM support.
Click on logo for features and setup tutorials: